The activist arrives in Malpensa tomorrow afternoon, after having rejected the government's offer to return to Italy on a special flight, to avoid having to meet or be assisted by the authorities. "Personal choice, saved us money. It's fine," interrupted Defense Minister Crosetto. Tajani: "We were interested in releasing him, so how he comes back is his choice." At 8:30 p.m., the Egyptian researcher will be the protagonist of a press conference at the Rectorate of the University of Bologna
Your browser does not support HTML5
Subscribe to our newsletter to stay up to date on world news.

Tomorrow Patrick Zaki will arrive in Italy and, in the afternoon at 8:30 p.m., he will be the protagonist of a press conference at the Rectorate of the University of Bologna together with the Rector Giovanni Molari and Professor Rita Monticelli, coordinator of the Gemma master's degree followed by the Egyptian activist. The same Alma Mater communicates it. Zaki, the university explains, will land at the Malpensa airport in the afternoon (around 4:50 p.m.) and from there Molari and Monticelli themselves will accompany him to the University. No meeting with the press is planned in Malpensa. According to the Bologna City Council, a public celebration is scheduled in Piazza Maggiore on Sunday, July 30 at 8:00 p.m. The Egyptian activist has chosen to reject the government's offer to return to Italy on a special flight. After the presidential pardon and release from prison, the former student of the University of Bologna, now a graduate, refused a special flight from Cairo to Ciampino made available by Palazzo Chigi to avoid having to meet or be assisted by the Italian authorities. A great refusal that, according to some sources, would have irritated the Italian government, which Zaki had thanked anyway for its decisive contribution to his release. "Patrick Zaki's is a personal choice, he saved us money too. So that's good." These are the words of Defense Minister Guido Crosetto on the decision (THE STAGES OF THE ZAKI CASE).
Zaki in Italy on Sunday with a scheduled flight
"The best feeling is freedom," Zaki said in the last few hours. He explained that he will soon return to Bologna ("The long-awaited dream," he wrote in a tweet), then return to Cairo to marry his fiancée. Initially, the arrival in Italy was expected on Friday, then on Saturday, finally Zaki announced "a slight change in plans": he will arrive on Sunday, via Milan and with a scheduled flight. The young Egyptian researcher, as mentioned, actually refused a special flight. "Deciding to travel on a regular flight is not a gesture of political opposition, but a gesture of independence," tried to explain Riccardo Noury, spokesman for Amnesty Italy. "The reputation of human rights defenders is based on their independence from governments. They are grateful and appreciative when things are done for them and, in fact, Patrick has repeatedly thanked the government and the embassy," said Noury, who has been leading the defense of Zaki's freedom for the past three years. "They offered him that possibility but it is not an obligation," minimized Foreign Minister Anotnio Tajani, returning to claim the success of the government's diplomatic action: "We were interested in freeing him, then how he returns is his choice," he truncated.
See also
Zaki in Italy "in a couple of days." No to the special government flight
The meeting between Zaki and Muhammad al Baqer
Meanwhile, Zaki met in Egypt with the lawyer and human rights defender Muhammad al Baqer, pardoned with him by President Abdelfattah al-Sisi. "Indescribable happiness," Zaki wrote on Twitter, posting a photo of the reunion. Al Baqer was serving a four-year prison sentence from 2021 handed down by an Emergency State Security Court on charges of joining the Muslim Brotherhood, which has been banned in Egypt since 2013, and spreading false news at home and abroad. Before being sentenced, the activist had been detained since September 2019.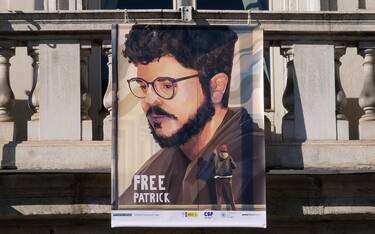 See also
Tajani: "No haggling with the Giulio Regeni case for Patrick Zaki"