"Men and Women" columnist Gianni Sperti surprises fans with a real headline: a new look for the former dancer.
we know it as careful and uncompromising commentator to "Men and Women", and together with Tina Cipollari he is one of the pillars of Maria De Filippi's dating show, but Gianni Spetti he also has one behind him respectable career.
The dancer from Manduria, in fact, attended the corps de ballet of "Buona Domenica" from 1996 to 2000, and also acted in the film "Milonga" by Emidio Greco. She also participated in "La sai l'ultima?", "La mole", "Amici" and "Il grande bluff", establishing herself as one of the Biscione's most recognizable faces.
Fresh out of marriage to the showgirl paula baralaGianni Sperti has recently dusted off the situations of his relationship, giving some food to the press hot link details.
Forever vague about my sexual orientationHe confessed to "Verissimo" that he had experienced a moment of existential crisis while living with Paola Barale, and that he had broken relations after the separation.
Gianni Sperti's confession: "I felt very insecure"
The columnist informed Silvia Toffanin: "My marriage to Paola Barale lasted 4 years, it was an intense period of my life, and It surely helped me a lot, because we met at a time when I felt very insecure.. But then the story ended, we parted ways and never saw or heard from each other again… We haven't seen each other in twenty years. and, I must say, we never looked for each other…".
In a recent interview, Paola Barale would have left room for doubt that her ex-husband harbored homosexual inclinations. In this regard, Gianni Sperti commented: "I'm not afraid to say what she didn't say… What if I'm gay? I'll never tell. It may be true, right, this would be like putting a label on me, and I've always hated them…". Although reserved about his private life, Gianni Sperti does not renounce small vanitiesand share all the evolutions of her look with her followers. In the last few hours, thanks to the intervention of a hairdresser, the columnist has she revolutionized her look for the summer…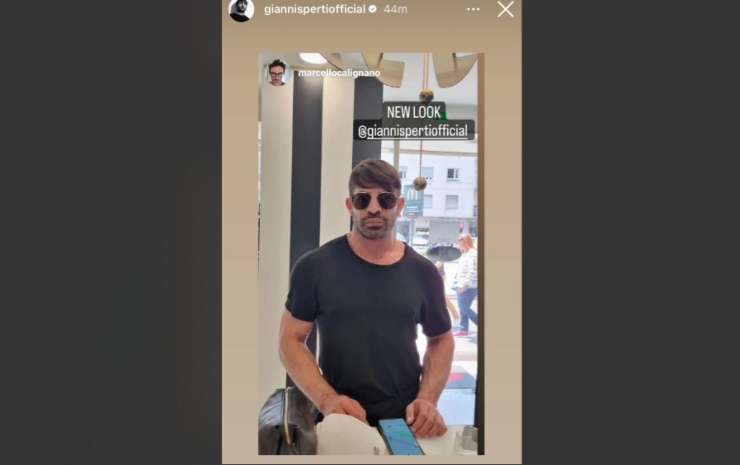 Gianni Sperti, bangs are the must-have of summer
The columnist has renounced the canonical neat and impeccable hairstyle that he wore in the study of "Men and Women" for a decidedly grittier hairstyle.
Gianni Sperti, in fact, has opted for one long layered bangsperfectly smoothed with the hair dryer and passed over the forehead, and crowning the new look with aviator glasses and basic black t-shirt… A nostalgic throwback to the 90s?