The words during the press conference at the Foreign Press headquarters after the report issued by Tg La7 directed by Enrico Mentana that spoke of a scoop that could lead to the resolution of the disappearance of Emanuela Orlandi's sister, which occurred in 1983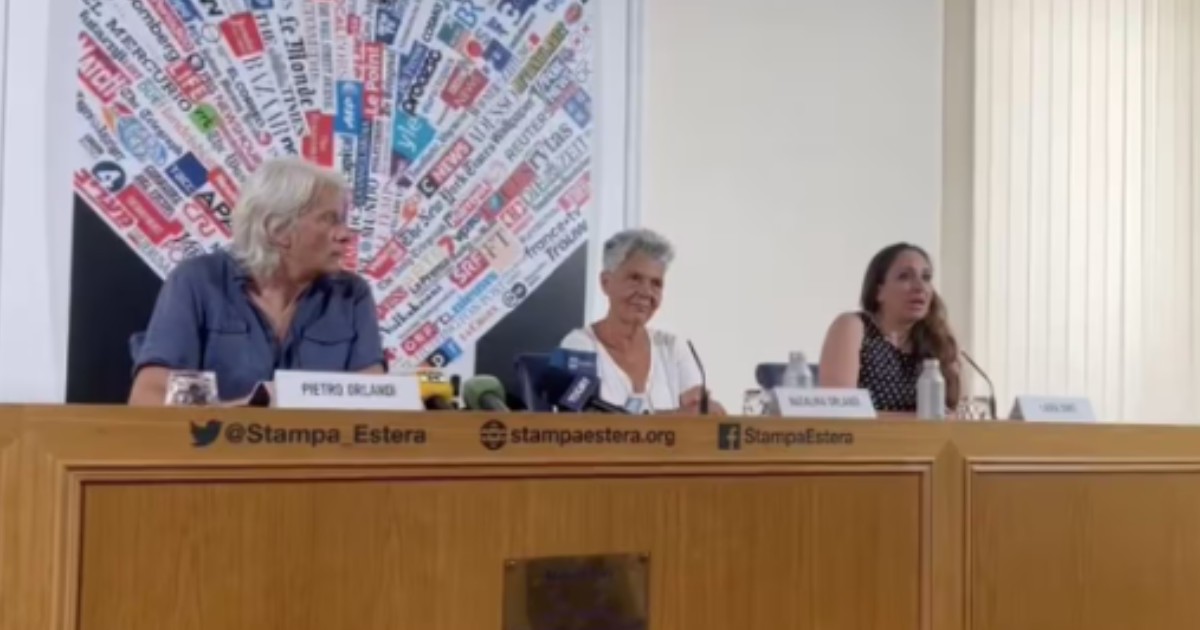 "there is no violationIt is a fact that dates back to 1978, my uncle only made simple verbal insinuations to me, at the moment I shuddered but it ended there and I only told our priest in confession": natalia orlando clarified today during a press conference to the Foreign Press a personal story, which occurred more than 40 years ago, which yesterday became public domain after the report broadcast by Tg La7 directed by Enrico Mentana, which spoke of a scoop that could lead to the resolution of the mysterious and impenetrable disappearance of the sister of emmanuel orlandowhich happened in 1983."This was the relationship with my uncle. And indeed our families are close. I kept this to myself. Then in 1983 they called me and questioned me. They were things that everyone knew, prosecutors and investigators. She ended up there and it led nowhere, "the woman stressed.
The premiere
The documents that according to Mentana could lead to the solution of the case would be letters that the then Secretary of State Augustine Casaroli he would have sent the priest to whom Natalina would have made this confession, asking him for confirmation of this story. "It's something very serious," said Pietro Orlandi. A priest who receives a thought in confession cannot divulge it". These letters were then transferred to the prosecutor's office and have, in fact, been in the records for 40 years. The uncle had already been investigated at the time but suspicion immediately fell because, according to previous investigationsOn the day of Emanuela's disappearance, she was 200 kilometers from Rome with her family. A family shaken by all this media meat grinder because until yesterday they were unaware of a story that Natalina had preferred to keep to herself, after having spoken to the investigators about it. "I wonder how the Public Ministry works, you don't see if there are already papers in the records that confirm that my uncle has been investigated because that's the way it is, but that the investigation ended without doing anything?" Pietro Orlandi asked.
Service
"The entire service from yesterday can be disarmed", explained Pietro Orlandi. "The lawyer Gennaro Egidio was told to us by the secret services and not by my uncle as they say. Tío Mario had an important lawyer and he asked us why hire another lawyer. Services brought it to us. In the Vatican they told us that they did not know him, then we discovered that he was already working for them, he had followed the story of Roberto Calvi". Even the question of Mario Meneguzzi's threats to Natalina to make her lose her job in the Chamber of Deputies if she rejected her advances – her uncle ran the Chamber's bar – was denied by the person directly involved. "I did a public contest, they can't fire me unfairly. My uncle was on the same level as me, this is crazy." "They wanted to shoot zero in my sister's life, I didn't think they would go that low, she's a bastard," Pietro added.
The family
"I challenge those who say that it is the scoop of the moment: solve the case," added Natalina. "After this episode, it all ended there and our families continued to live together as if nothing had happened, they didn't know anything. This thing that came out yesterday bothered a 90-year-old wife and her children, to whom I am very close, did not know anything because I had kept it to myself. When Emanuela disappeared I was questioned by the prosecutor Domenico Sica as if I were guilty because she was reticent, then he asked me about my uncle. We are clear people, I couldn't say no because it was over. It makes me laugh that they talk about scoops, everyone knew it. We had agreed with the lawyer not to tell my father so as not to cause more pain. In 2017 Becciu contacted me. I went with my husband but they didn't let him in. After a round of words, he told me that my brother was very insistent on having the documentation, but that in those documents was this story that worried me, dating from 1978. It seemed like a threat to me. I said that I had no problem, then I said that they would have elderly people who did not know anything, as well as my cousins, on their conscience. And they didn't know until last night. Becciu didn't give me those documents anyway. Never seen before, they said they were locked in a safe at the Secretary of State. Were the 5 leaves revealed by Emiliano Fittipaldi also enclosed there? How many things are in that safe?"
The investigation
"I would like to meet Pope Francis in private to tell him about the bastards around him.": the call of the heart of Pedro Orlandi. "I understood that this investigation was commissioned by Pope Francis who at a certain point had the courage to go ahead, I am convinced of that. Unfortunately, he didn't notice the carrion surrounding him. they want to transfer the responsibility of the Vatican to the family. I was delighted that day, I thought: is there really a will to understand? Now I understand that prosecutor Diddi works not to get to the truth about Emanuela but to a convenient truth that came out last night.
the parliamentary commission
About him parliamentary committee to shed light on the disappearance of Emanuela Orlandi, voted unanimously in the Chamber and approved by the Senate, the final programming of which is expected, the older brother of the four sons of Ercole Orlandi and Maria Pezzano said: "When I listened to Mentana yesterday, and I saw him read what he said with eyes of joy, I thought: what a bastard, thinking about the falsehoods said and taken as scoops. I have seen a way to discharge the responsibility in the family, it seems quite clear to me. If they have that suspicion they should summon to the protagonists of the story and interrogate them: my uncle's children, my sister and, on the other hand, did not listen to anyone. Mentana days ago, speaking of the commission, he called on the senators to present a motion to annul "this useless commission." Yesterday the news opened with this news. I await statements from both prosecutors Diddi and Lovoi to get out of this, don't stay silent. I appeal to the senators, I am convinced that the parliamentary commission can lead to the truth and in fact the Vatican fears it and does not want it. I hope the vote passes. Yesterday the Vatican trampled on the last crumbs of dignity. From the Vatican, the cardinals are hooking the senators so that this commission is not launched. Why, instead of investigating my uncle (among other things deceased, ed), don't you investigate the pedophile cardinals whom some people I met in the Vatican took my sister's photo, when she disappeared, to see and ask them if they had bothered? his? Why don't they investigate these pedophile cardinals? I am convinced by the parliamentary commission that the truth can come to light."