The physical state of Clizia Incorvaia worries the fans: the worrying rash spreads panic on the web.
The attractive influencer clizia incorvaia He gained wide notoriety thanks to his participation in the "GF Vip", in which he met his current partner paul ciavarro.
The Gieffina blonde had already tasted the taste of celebrity thanks to her relationship with the singer of "Le Vibrazioni" Francisco Sarcina, from which he had the eldest daughter Nina. Her relationship with the actor, however, went downhill, and Clizia Incorvaia found love again in the arms of the son of art in the same Cinecittà loft.
The couple in 2022 gave birth to little Gabriele, and she still is today dear on social media; However, the recent absence of new content on the profiles of both has definitely stirred the web.
The "Isa e Chia" portal has sounded the alarm: a sentimental crisis looms between the two former faces of the quintessential reality show? Clizia Incorvaia has silenced all accusations and rumors with an eloquent post on Instagram.
Clizia Incorvaia refutes the hypothesis of an imminent break
Aware of the affection of her followers, Clizia Incorvaia reported on social networks: "Many positive things have changed in recent years, in terms of partner evolution, construction… We lived together, we bought a house, we had a baby.. There is our extended family 2.0, like so many in Italy… Thank God we have worked more and more, and for this reason it happens that the time we had to fuck always and in any case we share it on social networks with you.".
Then the influencer concluded: "I know you used to, I know you miss it though you must understand that too often we need to have those moments with us. Sometimes, to preserve a beautiful love that has grown over time, we need that moment that is only ours.…". If the specter of an imminent crisis has dissolved in the air, in the last hours Clizia Incorvaia has had to face a very different and much more tangible problem. As evidenced by the shot she posted on her Instagram stories, the influencer would be in the middle of a rash very impressive…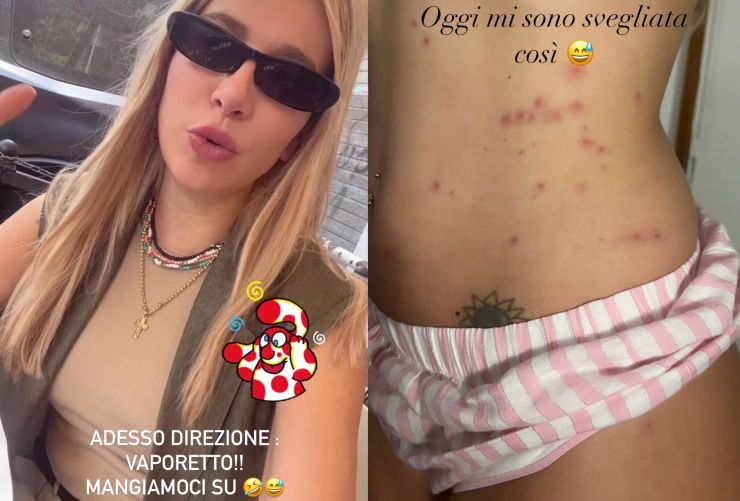 Clizia Incorvaia guarantees
The young mother reported: "Today I woke up like this", displaying photos of his side battered by suspected insect bites. The unpleasant attack would have occurred during the night, when Clizia Incorvaia was in full rest, and her body includes about a thirty red and swollen dots.
However, the influencer encouraged the fans: "Now, Vaporetto direction! Let's eat it up!", and getting ready to face the day with the usual optimism.