Road accident of Aurora Ramazzotti and her boyfriend Goffredo Cerza: shot on social networks goes viral.
the influencer aurora ramazotti She recently received her eldest son, Cesare Augusto, in her arms, to the great joy of her fiancé. Godfrey Cerza and new grandparents Michelle Hunziker and Eros Ramazzotti.
A pregnancy that also forced her to face her fears, as she revealed to 'Vanity Fair': "There are those who love being pregnant, like my mother, and others, like me, who work harder".
"It was not the idyllic moment in which I was photographed: I was excited, but also scared. And it's painful to talk about it, because you feel bad…"He also reported. "If you manifest these thoughts, I was told that I should be happy. People do not accept that this can be experienced in any other way than enthusiasm.. We need to have respect for the choices that women want to make about their bodies, in every way. There are also those who do not want to have children, and those who do not care…".
Aurora Ramazzotti, however, has brilliantly overcome the delicate past of pregnancy, and is learning with her boyfriend Goffredo thethe subtle art of being a father…Not without a few minor hiccups…
Aurora Ramazzotti documents the pee door
Unlike Aurora Ramazzotti, Goffredo Cerza doesn't particularly like exposure on social media and limits his interactions with followers to a few shots in the company of his fiancée and little Cesare.
In the last hours, however, he has chosen to share with the fans a nice joke about the newborn: Cesare would have unintentionallyand watered with his pee, and Goffredo appeared in a wet T-shirt and a pro-flash embarrassed expression, prompting an immediate reaction from the network. Many users have downplayed the incident, with one commenting: "He blessed you!". Another reported: "you have to be fast", alluding to the time of diaper changes. Finally, a last one encouraged him: "Wear well, trust me!".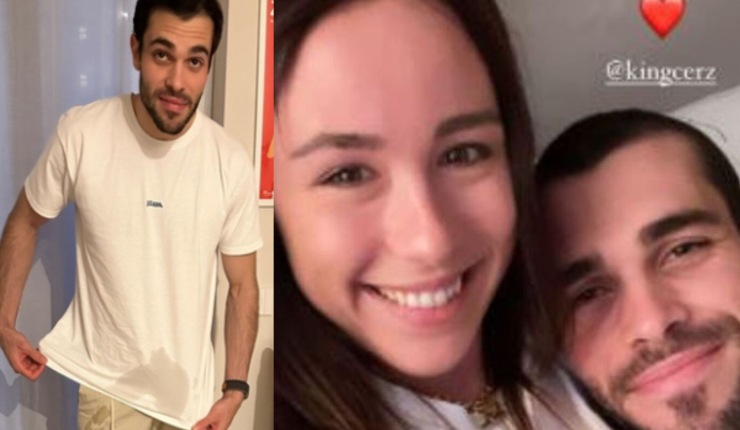 The joy of Michelle Hunziker
The young and beautiful grandmother michelle hunziker welcomed the newcomer with irrepressible enthusiasm: she herself had encouraged her daughter Aurora to have a baby at an early age.
He is also not afraid of his new status, saying: "When I have Cesare in my arms, I say to him: 'Grandma's love!', with the others I also say 'Mom to the cube'. However, I understand those who feel upset, because the word 'grandmother' is immediately related to old age. But we young grandmothers have nothing to be ashamed of!".